FEGGA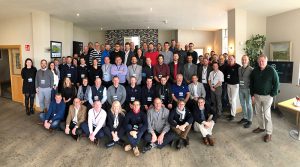 >> LINK ZU ALLEN PRÄSENTATIONEN <<
Associations Come Together in Galway
17. – 20. Feb. 2020
21 Greenkeeper Associations made the journey to Galway during the week-long FEGGA Conference. This FEGGA meeting also saw FEGGA host in partnership with the GCSAI the biannual meeting of the International Summit.
The International Summit began with the theme of "On Going Collaboration" which was a common thread throughout the four days of everyone being together and continuing with the themes that were highlighted during the last Summit held in San Antonio in 2017. The themes being Professional Development/Education – Membership Growth and retention – and Promoting the Profession, all subjects that were clearly highlighted in the numerous surveys that were carried out in the build-up to the International Summit and Conference.
FEGGA's ambition for the Summit was to not just continue the themes for San Antonio but develop ways of achieving outcomes that find solutions through further ongoing collaboration. The group work really engaged associations, and for sure they all will have gone home with initiatives to help them, but we also all agreed to two firm initiatives that we will all collectively engage in for the betterment of our associations, profession and the game of golf. These will include an awareness day in May, where we will globally hold a "Thank a Greenkeeper Day". The second of the initiatives was to look at developing a communication tool to allow all associations across the world to better communicate and share information through a platform to ensure future collaboration – So now the work begins in achieving these two agreed intiatives!
The second day saw our Summit take on Session two, with all our Patrons, and Partners joining us for the remainder of the Conference. In all we were 50 organisations as we started the day with the Environmental Session – Move Forward with Nature and the Commitment to Responsible Golf Course Management, led by FEGGA Board member Koert Donkers. The Session focused on sustainable greenkeeping, focusing on grass species, fertilisers and water, and then dived into a focus on the challenges and initiatives in Ireland. It really did show how the turf industry is really committed to dealing with the challenges ahead. It really did prompt some good discussion of the realities that lie ahead.
The final part of this Session saw Koert Donkers deliver a great presentation on the global perspective looking at biodiversity and conclusions from the Environmental survey carried out by FEGGA. Its worth mentioning that this lengthy survey was completed by 21 Greenkeeper Associations, and really did delve into all aspects of Sustainable Environmental Management of our Golf Courses. Koert did an excellent job in communicating the conclusions of the survey, and the reality of the challenges are, what we are positively doing and the general opinion of how countries engage in the importance of golf responsibly to the environment. You will be able to view this presentation via the FEGGA website.
The final day saw FEGGA run three sessions that are being currently engaged in as on-going initiatives, GolfCourse 2030, Pioneering Research and Women in Golf. Steve Isaac presented a very great update of the development of The R&A's GolfCourse 2030, which was then followed up with a Session on the combined FEGGA and R&A initiative Pioneering Research. Martin Nilsson of the FEGGA board led this Session, which focused on the Turfgrass challenges on European Golf Courses and using Nordic Countries as a role model for coordinated research among Countries. Martins excellent introduction was supported by a presentation given by Karin Juul Hesselsoe of Nibio University focusing on all aspects of the challenges and research of central and southern Europe. Supporting presentations were also delivered by Luis Fialho of Portugal and Andreas Leutgeb of Austria, both making the case for further research essential in meeting the future challenges highlighted within the work of GolfCourse 2030.
We were so pleased to be able to welcome Graeme Beatt, Superintendent at Royal Portrush. Graeme delivered a great insight of the journey that finally led to them hosting the Open Championships during 2019.
The final Session of the day was the Women In Golf Session, and many said that this was the most inspiring Session of the Conference, and it's difficult to disagree. All four ladies delivered what was four inspiring presentations, both Jackie Davidson (R&A) and Ann Mc Cormack (Confederation of Golf in Ireland) delivering their thoughts about women in Golf and also speaking about their own careers and challenges within their specific roles. Marion Klopp and Siobhain Cusack, both greenkeepers from Adare Manor Golf Club then delivered two outstanding Presentations about their personal careers to date, and you can be sure we are all going to hear more from these two people in the future. The Session was led by our FEGGA board member Emmi Pietarila, current Course Manager working in Finland.
It was a very special moment seeing all five ladies on the stage answering questions and discussing the industry as they see it, not just as Ladies but as inspiring people working in our industry. It really was a positive way to draw to a close a Conference and International Summit that delivered on its theme of Ongoing Collaboration.
FEGGA wants to thank all the Associations, Patrons and Partners who supported this event and ensured we achieved many of our goals.
Finally, to a big thank you to our main sponsors, John Deere, Toro, and the R&A. Your support is truly appreciated by FEGGA and acknowledged by all.
We look forward to seeing you all in Germany 23-26 February 2021.
FEGGA Bring Together People and Associations in Rome
23 Associations made the trip to Rome to engage in what was a very inspiring Conference, focusing on further development, Association stories of challenges and engagement.
The venue for the first day was the 2022 venue for the Ryder Cup, Marco Simone Golf and Country Club. We were welcomed by the staff lead by Riccardo Tirotti, Golf and Business Manager, on a day of clear skies and sunshine. The terrace was the perfect place to view the first stage of construction, this followed what was an interesting introduction presented by Riccardo and also Dave Sampson the leading Architect of the 2022 Ryder Cup Golf Course.
The first day was to focus on challenges around the globe, and also a Session on Pioneering European Turf Grass Research to Enhance Responsible Golf Course Management. This was done to build up to an afternoon Session Golf Course 2030, an R&A initiative focusing on the challenges that golf faces during the next decade and more. The speakers did a great job in preparing our members and patrons for the group work later that day, which provided results which will go a long way in producing a roadmap for the next stages of Golf Course 2030 for Europe.
Day two took on a very different journey for the day, focusing on modern technology, FEGGA Education Experiences, along with some very inspiring Association Presentations. These really went a very long way with the mission of FEGGA in sharing to benefit all. I particular Damian McLaverty did a fantastic job in sharing the recent journey of GCSAI. Many people made comments reflecting on what Damian had shared, and how it will help their own association in dealing and managing through their own current challenges.
This second day concluded that despite the current challenges, there is much to be positive with. We have great people working within our industry, and we know collectively have some great tools to work with in managing our associations and delivering great opportunities to our respected memberships.
The formal proceedings of our AGM saw the election of Koert Donkers, of the Netherlands onto the board of FEGGA. Koert is a past FEGGA Scholarship Student of Gleneagles, and has been a long time supporter of FEGGA and will bring a wealth of knowledge and experience to our existing board.
I want to thank our Patron Members, and Partners, their contribution to our Conference was outstanding and the engagement they showed at the Golf Course 2030 group work enabled us to have a really balanced discussion, enabled the good messages to come out of this important group work. It's vital that they engage in Golf Course 2030, they are vital to its future success, and have already shown this through their engagement in the pilot project that has focused on United Kingdom and Rep of Ireland this past twelve months.
Finally, I want to thank our Conference Sponsors, their support is considerable in us bringing together all these organisations. A very big thank you to John Deere, The R&A, and Toro.
In looking ahead to 2020, FEGGA will be bringing its Conference to Rep of Ireland, and also hosting the International Summit. We all are very excited by the prospect of our visit and what we can build on during 2019 to ensure we continue to the work of supporting our industry and the game of golf.
Die FEGGA gibt die 10 nominierten Europäer für das Ryder Cup Support Team 2018 bekannt
Herzliche Glückwünsche an die zehn – im Rahmen des FEGGA Greenkeeper Experience Programmes – auserwählten Greenkeeper, die das Ryder Cup Support Team heuer am Le Golf National in Paris unterstützen werden. Ermöglicht wurde diese einzigartige Chance, an diesem wohl prominentesten Golfevent teilnehmen zu können, durch Sponsorings von "Capillary Concrete" und "Le Golf National".
Alejandro Reyes, Superintendent am Le Golf National und Absolvent des "FEGGA Scholarship Programmes" hat längst erkannt, wie wichtig das Thema Ausbildung bzw. das Sammeln von Erfahrung im Rahmen von großen Turnieren ist. Genau deshalb will er auch jenem Kreis an Personen, von dem er besonders profitiert, etwas zurückgeben. Die zehn Greenkeeper, die alle Mitglieder in einem der europäischen Verbände sind, werden gemeinsam mit dem Team vom Le Golf National sowie freiwilligen Helfern arbeiten, um perfekte Spielbedingungen für die Top 24 Profigolfer aus Europa und den USA bereitsstellen zu können.
Das Programm ist eine perfekte Kombination aus Ausbildung und Networking und öffnet neue Geschäftschancen für alle, die für das Support Team ausgewählt wurden. Im Rahmen der Ausbildung wird auch ein 3-teiliger Seminarblock zum Thema Bunker stattfinden. Hier werden die Themenbereiche Design, Betrieb und Pflege beleuchtet und auch die Sicht eines langjährigen Golfers der Europeam Tour zur Bespielbarkeit von Bunkern dargestellt. Zu den Fachvorträgen werden ein einerseits ein sehr prominenter Architekt sowie ein äußerst erfahrener Techniker eingeladen.
Allen Teilnehmern am Ryder Cup Support Team ist ein gewisses Karrierebewusstsein nicht abzusprechen, weswegen es vor Ort während ihres Aufenthaltes am Le Golf National eine "Career Clinic" geben wird, die alles Aspekte einer zielgerichteten und individuellen Karriereplanung für jeden einzelnen – auch unter Berücksichtigung von künftigen Auslandseinsätzen – anbieten und abdecken wird.
Die Seminare konzentrieren sich auch auf den Bau sowie die wirtschaftliche Entwicklung von Golfplätzen – alles präsentiert von führenden Profis aus der Golfindustrie.
Die Firma Capillary Concrete ist ein großer Unterstützer der FEGGA und hat es auch ermöglicht, die zehn Greenkeeper zu entsenden und ein Ausbildungsprogramm für Freiwillige aufzusetzen bzw. durchzuführen. Der CEO des Unternehmens, Martin Sternberg, ist seit 27 Jahren GCSAA-Mitglied und war der erste Certified Superintendent in Europa. Das Programm kommentiert er wie folgt: "Die Zusammenarbeit zwischen internationalen Greenkeepern ist für mich persönlich sehr wichtig und eines der Hauptanliegen in der Firmenphilosophie von Capillary Concrete. Es freut uns sehr, dass wir bei dieser hervorragenden Sache mit der FEGGA zusammenarbeiten und ein Teil dieses einzigartigen  Ausbildungsprogrammes sein dürfen."
Sowohl Alejandro als auch Martin begleiten den ambitionierten Weg der FEGGA und setzen viel Engagment in die Entwicklung der Greenkeeper und ihrer Karrierepläne innerhalb der Sportrasenindustrie.
Es gibt keinen Zweifel daran, dass die zehn auserwählten Greenkeeper eine Woche einzigartiger Erfahrung erwartet, welche einen unschätzbaren Wert für deren eigenen Karriereverlauf bringen wird.
Die glücklichen Zehn auf ihrem Weg zum Le Golf National:
Abel Marius Pascariu, Assistant Greenkeeper
Golf Club Wien and member of the Austrian Greenkeepers Association
Jiří Lahodný, Head Greenkeeper
Prosper Golf Resort Čeladná and representing the Czech Greenkeepers Association
Mads Andersen, Course Manager
Søllerød Golf Club and representing the Danish Greenkeepers Association
Paul Marley, Assistant Head Greenkeeper
Estonian Golf and Country Club and representing the Estonian Greenkeepers Association
Frank Czarnietzki, Head Greenkeeper
Golf Club Maria Bildhausen and representing the German Greenkeepers Association
Chloe Gallagher, Assistant Greenkeeper
Gulf Harbour Country Club and representing the British & International Greenkeepers Association
Matija Pipan, Golf Course Superintendent
Golf & Country Club Castello di Spessa and representing the Slovenian and Italian Greenkeepers Association
Ciarán Byrne, Assistant Head Greenkeeper
Old Conna Golf Club Bray and representing the Golf Course Superintendents Association of Ireland
Bernardo Almeida, Head Greenkeeper
West Cliffs / Praia D´el Rey Golf Club and representing the Portuguesse Greenkeepers Association
Hector Forcen, Golf Course Superintendent
Golf Club Payerne and representing the Swiss Greenkeepers Association
Dean Cleaver, im August 2018